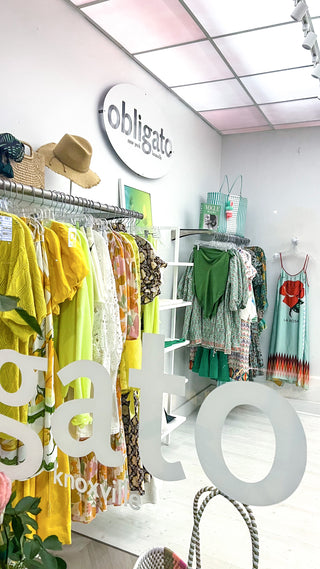 About us
Obligato Knoxville Boutique
Obligato started 30 years ago in East Hampton, NY on Main Street. In 2005, we brought our trendy, comfy, cool women's boutique from Long Island, NY to beautiful Knoxville, TN.
Partnering with our East Hampton associate we opened Obligato Knoxville bringing the newest and most sought-after designers to our women's boutique in Knoxville, TN.
Looking for that perfect dress? How about the season's latest romper or jumpsuit? Maybe even a nice kimono or cardigan? Did someone say skinny jeans? Ooo shoes, yes how about shoes?! No worries, we have you totally covered!
Here at the Obligato we embrace lots of variety to meet every fashionista's need. From urban to classic, or workday to weekend, we recognize the importance in a diverse wardrobe and seek to provide trendy styles that are readily available.
We invite you to shop Obligato broad selection of trendy, cool, comfy clothing, incredible accessories, luscious handbags and the most wearable shoes of all! Whether online or in store, our mission is to consistently surpass your expectation of boutiques through engagement, connectedness, and the best customer service around.
Our brand matrix consists of:
Frank and Eileen, ALC, Mignonne Gavigan Jewelry, Rails, 3 X 1, Frame, Jbrand, Halston, Lola Cruze, James Smith the label, Enza Costa, and Nickho Rey. Rebecca Minkoff, Rails, Cami NYC, Free People, BB Dakota, Barefoot Dreams, Lauren Moshi, Enza Costa, La Space, Generation Love, Minnie Rose NYC, Joie, Frame, Vince, Alice and Olivia, Adriano Goldschmied, Equipment, Misa Los Angeles, Yumi Kim, Virgin Saints and Angels, Tai, Schutz, Blank NYC
Image with text
Use these sections to promote a particular feature with editorial photography